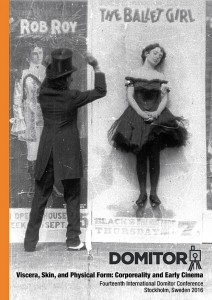 2016 Program
The Fourteenth International Domitor Conference was held in Stockholm at Filmhuset, the Swedish Film Institute, and examined the relationship between corporeality and early cinema. Evening events included archival screenings and lecture-performances at the Bio Victor.
The Call for Papers
Moving pictures fascinated early audiences by depicting inanimate objects in motion; rolling waves and phantom rides were lasting favorites. First and foremost, however, the film camera captured bodies moving about in everyday life as well as bodies performing for the camera: workers leaving the factory, Sandow flexing his muscles, Annabelle dancing. Film's wondrous and uncanny capacity to deliver imaginary corporeal presence took advantage of and amplified modernity's novel forms of body culture. Indeed, even the naming of the medium's machines and corporations indicated its organic impulse (bio, vita, living, animated). As the medium industrialized and accelerated its intermedial cross-pollination, it supplanted unnamed "models" with stars and superstars while it presented everyday bodies in non-fiction genres. Over time, producers tested storytelling techniques, acting styles, programming approaches, and exhibition practices, thereby negotiating and transforming the relationships between screen bodies and audience response. From the "cinema of attractions" to the feature film, spectatorship has always been corporeal.
Against this backdrop, this Domitor conference seeks to explore the role of the body in all its glory: grotesque or "deviant" bodies; dismembered bodies and corpses; erotic bodies, ideal bodies; bodies that display gender, sexual orientation, age, ethnicity, race, class, national origin; imperiled bodies; bodies at work; bodies at play; conspicuously fashioned bodies; bodies in the audience; and so on.
Possible Topics Include:
Early theories or debates about the nature of screen bodies and their relations to bodies in attendance
Modern theories or debates about the same: the cinema of attractions, body genres, spectatorship and the imaginary
Cinema's negotiation of gender relations and the body's social space, such as the representation of "the new woman" or cross-cultural body notions inside and outside the western world
Vitalism and the cinematic apparatus
Bodies (human and animal) filmed in labs as objects of scientific or medical experiments; institutionalized or incarcerated film bodies
Cinematic disseminations of physical ideals, body norms, and corporeal imaginings
Non-fiction gore in the wake of disasters, accidents, and wars
The acting body from anonymity to stardom
Undressed, fashioned, in drag, or otherwise (un)adorned screen bodies
Film censorship and the regulation of cinema's physicality
Bodily excitements in the dark: mashers, prostitutes, dating cultures
Imperiled audience bodies: fire regulations and other means for safeguarding exhibition spaces
Audience discipline: daylight theaters and other techniques for monitoring audiences
Bodily representation and movement in early animation films
Cinema's simulated bodies: mechanical corporeality and body tricks
Mapping bodies for analyzing physical movements: from Muybridge and Marey to Gilbreth
Peep culture and corporeality in non-projected moving images
Hand-operated optical toys, automata, or other tactile apparatuses
Film bodies studied/situated in intermedial and intertextual relationships with other performance/representational practices (vaudeville, circus, pantomime, chronophotography, lantern slides, painting, postcards, advertisements, and theatre)
Although we imagine the general time frame for the period covered by papers in the conference to be 1890 through 1915, we realize that cinema developed unevenly across the global stage. For that reason, papers treating cinema after 1915 in countries where early cinema practices postdate the proposed time frame will be given full consideration. Similarly, papers that examine the history and current status of early cinema's place in the archive and museum are also welcomed.
PANELS AND PRESENTATIONS
Bodies and Early Optical Apparatuses
Janelle Blankenship (University of Western Ontario), "'Powerful Limelight . . . Blistered his Skin': The Hand of the Projectionist"
Alison Reiko Loader (Concordia University), "A Rational and Entertaining Species of Amusement to Bipeds of All Ages: The Splendid Camera Obscura"
Artemis Willis (University of Chicago), "Anatomy of a Lantern Gag"
Animations and Metamorphosis
Tom Gunning (University of Chicago), "Impossible Bodies: Metamorphosis of the Body in Trick Films and Early Animation"
Donald Crafton (University of Notre Dame), "The Troublesome Heads of Georges Méliès"
Screening: "Setting the Table"

La Table à rallonge (Pathé, 1913, Roméo Bosetti?, 8 minutes) Courtesy of the Danish Film Institute
Projections in Intermedial Contexts
Michael Cowan (University of St. Andrews) and Katharina Loew (University of Massachusetts Boston), "Space, Body, Projection: The Kino-Variété (1913-1914)"
Ludwig Vogl-Bienek (University of Trier) "Body and Screen: Corporeality in Live Performances of the Historic Art of Projection"
Ian Christie(Birkbeck, University of London), "Ghosts in the Machinery"
Roundtable: The Media Ecology Project

Mark Williams (Dartmouth College), Allain Daigle (University of Wisconsin – Milwaukee), Tami Williams (University of Wisconsin – Milwaukee)
Turn of the Twentieth Century and Imaging Technologies
Dimitrios Latsis (Internet Archive), "'The Naked, Absolute Fact':
Muybridge's Locomotion Nudes and Their Afterlives in Early Cinema"
John Fullerton (Stockholm University), "Lumière Agents in Mexico: The 'Body' of Film as a Late-Nineteenth-Century Discourse"
Linda Bertelli (IMT Institute for Advanced Studies, Italy), "Towards an Economy of the Body"
Spectatorship and Disturbances at Early Film Screenings
Maggie Hennefeld (University of Minnesota), "'Don't Show Your Teeth': Women's Laughter and the Living Film Spectator"
Mireille Berton (University of Lausanne), "'Keep It Dark': the Fatale Attraction of the Female Viewer's Body"
Annie Fee (University College London), "Wounded Veterans and Recuperative Cinema Culture in Wartime Paris"
The Performing Body
Ansje van Beusekom (Utrecht University), "Funny Walks: Performing Bodies Outdoors"
Vassiliki Tsitsopoulou (Indiana University), "Race, Mimetic Embodiment, and Urban Space in an Early-ish Greek Film"
Gunnar Iversen (Norwegian University of Science and Technology), "Bodies in Motion: Dancing and Boxing in Early Norwegian Cinema"
Screening: "Chicken and Eggs"

De l'Oeuf à la broche (Pathé, 1909, 3 min.) Courtesy of the British Film Institute
Canards parisiens (Parnaland, 1902-1904, 1 min.) Courtesy of Filmoteca Española
Bodies without Boundaries: Tableaux Vivants and Living Statues in Early Cinema
Vito Adriaensens (Columbia University), "Ovidian Violence: Georges Méliès' Explosive Screen Bodies"
Valentine Robert (University of Lausanne), "Nudity in Early Cinema, or the Pictorial Transgression"
Daniel Wiegand (Stockholm University), "Furious Sculptures: From the Frozen Life in Tableaux Vivants to Life Unleashed in Film"
Roundtable: The Promise of Cinema

Nicholas Baer (Purchase College, State University of New York), Michael Cowan (University of St Andrews), Anton Kaes (University of California, Berkeley), Katharina Loew (University of Massachusetts Boston)
Projecting the Human Body: A Transmedial Perspective
Sarah Dellmann (Utrecht University) and Ine van Dooren (Screen Archive South East, University of Brighton), "The Extraordinary Human Body: From Spectacle to Medical Case"
Frank Kessler (Utrecht University) and Sabine Lenk (University of Antwerp), "Inside the Human Body: The Unseen World Exposed"
Richard Crangle (University of Exeter) and Joe Kember (University of Exeter), "Temperance Bodies: Emotional Movement in Social Mission Shows"
Bodies, Senses, and Space

Martin Barnier (Université Lumière Lyon 2), "Le corps dans l'espace: son et relief"
Sébastien Dupont-Bloch (Université Paris 1), "Paul Capellani, le corps à l'épreuve du cinématographe"
Judith Thissen (Utrecht University), "Perfuming Devices, Deodorizing Discourses: Movie Audiences, Middle-Class Respectability, and Pure Air"
Natural Sciences and the Body
Jérémy Houillère (Université Rennes 2/Université de Montréal), "Les 'chirurgiens fin de siècle' de la presse illustrée et du cinema"
Benjamin Schultz-Figueroa (University of California, Santa Cruz), "Celluloid Specimens: Animal Origins for the Moving Image"
Luis Alonso-García, Daniel Sánchez-Salas, and Begoña Soto-Vázquez (Universidad Rey Juan Carlos), "Dr. Tomas Maestre's films: Bodies and
Minds around 1915 in Spain"
Rodolphe Gahéry (Université Paris Ouest Nanterre La Défense), "Corps mis en scène, corps mis en cage:
les premiers cinématographes au temps des zoos humains"
Special screening:

The Lover Comes (c. 1910) Nasjonalbiblioteket, Mo i Rana
Screening: "Bubble Trouble"

Lo champagne di Polidor (Pasquali, 1913, 5 min.) Courtesy of the Fondazione Cineteca Italiana di Milano
Restitution forcée (Parnaland, c.1900, 1 min.) Courtesy of the Filmoteca Española
Faces, Makeup, Hair
Alice Maurice (University of Toronto Scarborough), "Making Faces: Make-up and Character in Early Cinema"
Jean-Claude Seguin (Université Lumière Lyon 2), "Cheveux et pilosités dans le cinéma des origins"
Oksana Chefranova (Yale University), "Breathing Faces, Blinking Eyes: On Cinematic Visage in Russian Films of the 1910s"
Moving! Conceptions of Bodily Spectatorship in the Early 1910s
Stephanie Werder (University of Zürich), "Perils of Cinema: The German Cinema Debate and the 'Nerve-Racking' Medium"
Kristina Köhler (University of Zürich), "Moving the Spectator, Dancing with the Screen: Dance Instruction Films in the Early 1910s" 
Risk, Danger, Death
Charlie Keil (University of Toronto) and Denise McKenna (University of Southern California), "Risky Business: The Early Film Actor's Laboring Body Invites Discourses of Danger"
Gary D. Rhodes (The Queen's University of Belfast), "Death by a Thousand Cuts: Onscreen Executions in Early American Cinema"
Sarah Keller (University of Massachusetts Boston), "'Supposing him dead': The Mortal Coil and Early Cinema"
Masculine Bodies On and Off Screen
Frank Gray (University of Brighton), "Uniformed and Marching in Hastings"
Ivo Blom (Vrije Universiteit Amsterdam), "Media Muscle: Italian Strong Men Analyzed and Contextualized"
Wyatt D. Phillips (Texas Tech University), "Smokers, Club Films, and Blue Movies: The Pornographic Dispositif"
Screening: "Wine Vicissitudes"

Fatty's Wine Party (Keystone, 1915, 15 min.) Courtesy of the British Film Institute and the Library of Congress
Film, Sociology, and Criminology
Trond Lundemo (Stockholm University), "The Public and the Crowd: The Life of Images in Early Cinema"
April Miller (Arizona State University), "Carceral Corporeality and Female Deviance in Early Cinema"
Christina Petersen (Eckerd College), "'The Best Synonym of Youth': G. Stanley Hall, Mimetic Play, and Early Cinema's Embodied Youth Spectator"
Locating Race and Ethnicity
Denis Condon (Maynooth University), "The Taste of the Moment Seems All for 'Pictures': Irish Historical Bodies before the Early Cinema Screen"
Joanna Hearne (University of Missouri), "Before and After Images: Iconographies of Social Reform in Early 'Indian Dramas'"
Laura Horak (Carleton University), "Bodies and Borders: Reading Sexual and Ethnic Secrets on the Surface of the Body in Mauritz Stiller's Erotic Melodramas"
EVENING EVENTS
Program I
A selection of films from the Swedish Film Institute, curated and presented by Camille Blot-Wellens and Jon Wengström.
All films will be shown in 35mm. Titles are in Swedish with English subtitles. Running times are approximate.
Live musical accompaniment by Robert Israel.
Calino veut se suicider (Gaumont, 1910, Roméo Bosetti, 7 min.)
L'œuvre de Jacques Serval (Pathé, 1909, Michel Carré, 10 min.)
L'astrologue (Gaumont, 1907, 4 min.)
Les suicides de Lapurée (Pathé, 1909, 9 min.)
The Fatal Hand (Paul's Animatograph Works, 1907, J. H. Martin, 7 min., English titles)
Les flammes diaboliques (Pathé, 1907, Segundo de Chomón, 4 min.)
Program II
"From the Frenzy of the Visible to the Origin of Porno": A selection of films curated and presented by Linda Williams (University of California, Berkeley), with live musical accompaniment by Robert Israel
Après le bal (Georges Méliès, 1897) Lobster Films
Le Coucher de la mariée (Eugène Pirou, 1896) Swedish Film Institute
Le Coucher de la mariée (1907, Pathè Frères) Centre National du cinema et de l'image animée: film restored by  from nitrate elements from the Filmarchiv Austria
La Puce (Pathè Frères, 1907) Centre National du cinema et de l'image animée: film restored by  from nitrate elements from the Filmarchiv Austria
Une Joueuse enragé (1905) Lobster Films
Feéries Nues (1905) Lobster Films
Flagrant délit d'adultere (c.1899, Pathe Frères) Centre National du cinema et de l'image animée: film restored by  from nitrate elements from the Filmarchiv Austria
Les Cartes érotiques (c. 1910) Lobster Films
La Passe  (c. 1910) Lobster Films
Trois Gouttes de la Rosée Jugoslovenska Kinoteka
Country Stud Horse (c. 1915) Kinsey Institute Collections
K.K.K. Night Riders (c.1920) Kinsey Institute Collections
Getting His Goat  (c.1920) Kinsey Institute Collections
Program III
"From Rovaniemi to the Antipodes: A Showman's Amazing Journey": An illustrated "Show and Tell" lecture by Erkki Huhtamo (University of California, Los Angeles), ), with live musical accompaniment by Robert Israel
Program IV
Alkohol (Stern-Film, 1920, Lind & Dupont, 85 min.) Courtesy of Deutsche Kinemathek, with live musical accompaniment by silent film accompanist Robert Israel