On this page, you will find links to digital collections of periodicals relevant to early cinema studies. For more information, or if you would like to contribute to the list, please email domitorjournals@gmail.com.
Domitor Journals Project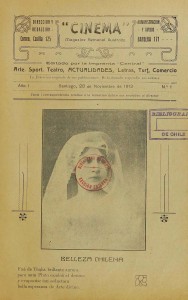 Project Leaders
Contributors
---
Contents
---
 

Argentina

Contributor: Rielle Navitski

Sources:

Biblioteca Nacional
Digital Collections of the Ibero-American Institute

Titles:

16 milímetros (1948)

Antena (1931-1939, 1936-1939, volumes restricted to on-site access at Biblioteca Nacional)

La canción moderna (1928-1936, 1936, volumes restricted to on-site access at Biblioteca Nacional)

Comedia (Buenos Aires), 1921

Heraldo del cinematografista (1932-1956, 1936-1956, volumes restricted to on-site access at Biblioteca Nacional)

Imparcial-Film, 1918-1920, 1933-1935

El Indicador: guía manual del cinematografista (yearbook: 1928, 1934, 1943)
 

Austria

Contributor: Michael Cowan

Sources:

Anno database of historical newspapers and journals (Österreichische Nationalbilbiothek)
virtual-history.com

Titles:

Die Bühne (Vienna, 1924-1950), 1924-1943

Der Filmbote, 1922–1926

Die Filmwelt. Illustrierte Kino-Revue (Vienna, 1919-1925), 1919-1925

Der gute Film, 1934-1937

Illustrierter Film-Kurier, 1934–1936

Kinematographische Rundschau (Vienna, 1907-1921), 1907-1917

Das Kino-Journal, 1922-1939

Der Kinobesitzer (Vienna, 1917-1919), 1917-1919

Die Kinowoche (Vienna, 1919-1922), 1919-1921

Mein Film (Vienna, 1926-1957), 1926-1939

Die Neue Kino-Rundschau (Vienna, 1917-1921), 1917-1921

Österreichische Filmzeitung (Vienna, 1927-1938), 1927-1938

Start (Film Start), 1936

Die Theater und Kino Woche (Vienna, 1919-?), 1919  

Der Wiener Film, 1936-1938

Wiener Revue, 1945-1947
 

Brazil

Contributors: Danielle Crepaldi Carvalho, Rafael de Luna Freire

Sources:

Biblioteca Nacional Digital Brasil
Biblioteca Digital das Artes do Espetáculo
Danielle Crepaldi Carvalho

Database

Itinerant Exhibitors at the Beginning of Cinema in Brazil

Film Magazines

Animatographo/ Animatographo Super-Lumière (Rio de Janeiro), 1898-1899

Cinearte (Rio de Janeiro), 1926-1932, colour edition here (enter title in search engine)

Cine-Jornal: Reportagem Cinematographica Mundial (Campinas), 1922

Cine-Luz (Pelotas), 1932-1933

Cine-Modearte: revista quinzenal de Cine, Moda e Arte (São Paulo), 1928-1929

Cine-Revista: semanário illustrado (Rio de Janeiro), 1919-1920 (download)

Cine-Theatro (Porto Alegre):

Cinema (Curitiba) 1909 (download)

O Cinema: Jornal official dos cinematographos e revista de arte cinematographica (Rio de Janeiro), 1912-1913

O Cinema: órgão da Mocidade Caçapavana (Caçapava), 1912

Cinema (Ceará), 1925

Cinema-Club: órgão do Cinema-Club dos Democratas (Sobral), 1912-1915 (download)

Cinema Pathé-Recife: jornal de litteratura, artes e noticias (Recife), 1919

O Cinematographo: Jornal Semanal de Propaganda Commercial, Humoristico e Noticioso (Rio de Janeiro), 1911

O Cinematographo: órgão defensor dos interesses da Empresa do Cinematographo Falante (Rio de Janeiro-RJi), 1905 (download)

Eden-Jornal: órgãozinho de propaganda da empresa Leonel & Mendes, proprietária d'A Moda e do Eden, teatro e cinema,1920 (download)

O Fan: Orgão Official do "Chaplin-Club" (Rio de Janeiro), 1928-1930

O Filme (Rio de Janeiro), 1933 (download)

A Fita (São Paulo), 1912-1913

Foto-Cine: semanário cinematográfico, informativo, crítico e educativo (Rio de Janeiro), 1935 (download)

Kodak (Recife), 1916

A Máscara: jornal de teatro, cinema, música, belas-artes, sport e mundanismo (Rio de Janeiro), 1927 (download)

Palcos e Telas (Rio de Janeiro), 1918-1921

Rio-Cinema (Rio de Janeiro), 1919 (download)

A Scena Muda (Rio de Janeiro), 1921-1955 (b&w), 1921-1955 (colour)

Magazines with Columns Devoted to Cinema

Careta (Rio de Janeiro), 1909-1964

O Cruzeiro (Rio de Janeiro), 1928-1935

A Estação Theatral: Theatro, Musica e Pintura (Rio de Janeiro), 1910-1912

Fon-Fon (Rio de Janeiro), 1907-1958

Klaxon: Mensario de Arte Moderna (São Paulo), 1922

Mascote (Recife), 1924-1925

O Malho (Rio de Janeiro), 1902-1953

Mauricéa (Recife), 1923

A Nota (Recife), 1918-1922

Para Todos, 1919-1958

A Pilheria (Recife), 1930

Revista da Cidade (Recife), 1926-1927

Revista da Semana (Rio de Janeiro), 1900-1918

Rua Nova (Recife), 1925-1926

O Tacape (Recife), 1928-1929
 

Canada

Contributors: Patrick Ellis, Louis Pelletier

Sources:

Hathi Trust
BANQ (Bibliothèque et Archives Nationales du Québec)

Titles:

Canadian Moving Picture Digest, 1918-1922

Le Panorama (Montreal), 1919, Vol 1, Issue 1-3
 

Chile

Contributor: Rielle Navitski

Sources: Biblioteca Nacional Digital de Chile

Titles:

El Cinematógrafo (Punta Arenas), 1909 

Cinema (Santiago), 1913

Cine Gaceta (Santiago), 1915-18

Chile cinematográfico (Santiago), 1915

El film (Santiago), 1918

La semana cinematográfica (Santiago), 1918-1920
 

China

Contributor: Victor Fan

Sources:

Chinese Women's Magazines in the Late Qing and Early Republican Period
Chinese University of Hong Kong

Titles:

Ling Lung (玲瓏), 1931-1937

Women's magazine of the 1930s with substantial coverage of cinema

Chinese Students Weekly (中國學生週報), 1952-1974

Influential weekly newspaper on cultural criticism from Hong Kong
 

Colombia

Contributor: Rielle Navitski

Sources: Central Bank of Colombia

Titles:

Cinematógrafo, 1908
 

Czech

Source: National Film Archive / Národní filmový archiv

Note: Journals available only only to members of the NFA

Titles:

Česky kinematograf,1911-1912
 

Denmark

Contributor: Matthias Grottendieck

Source: Danish Film Institute

Titles:

Filmen, 1912-1919
 

Finland

Contributor: Matthias Grottendieck, Outi Houpaniittu

Sources: National Library of Finland

Titles:

Biograafilehti, 1915

Biograftidning 1915 (in Swedish)

Fama: tidskrift för film, teater, dans, 1927-1929

Filmrevyn: Tidskrift för filmkonst, 1921-1927

Filmiaitta: Filmitaiteellinen aikakauslehti, 1921-1929
 

France

Contributor: Michael Cowan

Sources:

Gallica (digital collections of Bibliothèque Nationale Française)
Ciné-Ressources (Cinémathèque Française)
Bibliothèque du cinéma François Truffaut
Cinémathèque de Toulouse
Media History Digital Library

Titles:

L'Ange des projections lumineuses, 1902-1903

L'Argus du cinéma, 1917

Bordeaux ciné, 1929-1937

Bordeaux nocturne, 1928

Les Cahiers du film, 1933, 1934, 1941-1944

Ciné-Journal, 1908-1912, 1913-1937

Ciné pour tous, 1919-1923

Ciné-Schola: bulletin de la Ligue pour l'Enseignement par la Cinématographie, 1922-1923

Ciné-Théâtre (Toulouse), 1926-1929

Cinéa, 1921-1923

Cinéa-Ciné pour tous réunis, 1923-1930

Cinégraphe, 1922

Cinégraphie, 1927-1928

Le Cinéma, 1907

Cinéma, 1927-1933

Cinéma: annuaire de la projection fixe et animée, 1911-1914

Le Cinéma chez soi, 1926-1939

Cinémagazine, 1921-1935

Cinémato, 1925-1926

La Cinématographie française, 1918

Cinémonde, 1929-1948

Le Cinéopse, 1924-1939, 1946

Courrier cinématographique, 1913, 1917, 1919-1922 (limited search outside US)

La Critique cinématographique, 1927-1938 

Le Film, 1914, 1916-1922

La Gazette des sept arts, 1923

Hebdo-Film: revue indépendant et impartiale de la production cinématographique, 1916-1917, 1930-1934

L'Informateur ciné-corporatif, 1928

Le journal du ciné-club, 1920-1921

Les Meilleurs cinémas et le meilleurs spectacles de Paris, banlieue et départements, 1919

Mon ciné, 1922-1925, 1922-1928, 1936-1937

Le nouvel art cinématographique, 1926-1930

Paris-cinéma, 1924

Paris-photographe, 1891-1894

La petite illustration cinématographique, 1925-1928, 1930-1931

Phono-cinéma, 1908

Photo-ciné, 1927-1929

Pour-Vous: L'intran: l'hebdomadaire du cinéma, 1928-1940

La Rampe, 1915-1937

Le Rayon: Bulletin mensuel de l'oeuvre des conférences et des catéchismes avec projections, 1909-1914

La Revue du cinéma, 1928-1929

La Revue de l'écran, 1928-1948

Revue scientifique et technique de l'industrie cinématographique et des industries qui s'y rattache, 1913-1914

La Scène, 1921-1922

Les Spectacles, 1923-1931

Terpsica, 1926

Toulouse spectacles, 1919-1920, 1924-1932

Le Travail manuel: les sciences expérimentales et le cinéma à l'école, 1922, 1927
 

Germany

Contributor: Michael Cowan, Matthias Grottendieck

Sources:

Digi-Zeitschriften
Margaret Herrick Library (digital collections)
www.virtual-history.com
Media History Digital Library
Internet Archive
Heinrich-Heine-Universität Düsseldorf
Humboldt Universität zu Berlin

Titles:

Bild und Film (Munich, 1912-1914), 1912-1914

Film und Volk (Berlin, 1928-1930), 1928-1929

Filmland (Berlin, 1924-1927), 1924-1925

Film-Magazin (Berlin, 1927-1930), 1928, 1929

Filmtechnik (Halle), 1925-1943, 1929, 1933

Film-Welt (Berlin, 1929-1949), 1930-1935, 1942

Der Kinematograph (Düsseldorf, 1907-1935), 1907-1908 + database of topics covered

Kinematographische Wochenschau (Berlin, 1910-1914), 1912-1914

Pathé Woche, 1913-1914
 

Hungary

Contributors: Ana Grgic, Gabor Pinter

Sources:

Electronic Periodicals and Archive Database (Hungarian Electronic Library)
MaNDA (Hungarian National Digital Archive)

Film Journals:

A Mozi (Filmművészeti hetilap), 1920-1920

Mozihét, 1915-1922

Magyar Film, 1939-1943

Mozi-ujság, 1919

Filmkultúra, 1928-1938

Other journals with information on cinema:

Színházi Élet, 1912-1938

A Hét,  1925-1931
 

India

Contributors: Shruti Narayanswamy, Anselm McLeod

Sources:

Hindi Movies Films Songs Books… (http://hindi-movies-songs.com/joomla/)
Indiancine.ma
Media History Digital Library
Internet Archive
mahalmovies.com

Film Journals:

Filmindia (English language): 1937-1949

Film Titliyan (Urdu language): 1945, Part A, Part B, Part C

Rupvani (Telugu language): 1944-1950

Censor Records

Bombay Board of Film Censors: 1929-1950

Bengal Film Censor Records: 1920-1928

Official Reports:

of the Indian Cinematograph Committee: 1927-28, vol. 1, vols. 1-5

Newspapers (film advertisements and articles):

Indian Express – 1933-1947

Assorted publications and primary sources:

Collection of song booklets, pages from film journals and advertisements (English, Telugu and Bengali language): 1932 onwards

Song booklets and stills from 21 Indian films: 1921-1943

See also Encyclopedia of Indian Cinema

Jerzy Toeplitz, Report on Indian Cinema and Western Audiences (UNESCO, 1964).
 

Italy

Contributors: Michael Cowan, Katherine Nagels

Sources:

Museo Nazionale del Cinema

Centro Sperimentale di Cinematografia (Biblioteca digitale)

Note: For journals accessible through the Museo Nazionale del Cinema, we have given links to the search pages, where you can type in the name of the title and gain access to individual issues. You can also find a full list of all issues (as well as all film monographs) available through the Museo Nazionale del Cinema on Katherine Nagels' site here.

Titles:

Al cinema: settimanale di cinematografia e varietà, 1922-1930. Museo Nazionale del Cinema

L'Albo della cinematografia, 1915. Museo Nazionale del Cinema

Apollon, 1916, 1920, 1921. Museo Nazionale del Cinema

L'Argante, 1913-1916, 1930-1932. Museo Nazionale del Cinema

L'Arte cinegrafica, 1918-1919. Museo Nazionale del Cinema

L'Arte cinema-drammatica, 1913. Museo Nazionale del Cinema

L'Arte del cinema, 1928-1929. Museo Nazionale del Cinema

L'Arte del silenzio, 1922. Museo Nazionale del Cinema

L'Arte muta: rassegna della vita cinematografica

1916 (one issue)
1916-1917 and n.d. Museo Nazionale del Cinema

Bollettino Edizione Pittaluga

1928-1929. Museo Nazionale del Cinema
1929 (selected issues)

Bollettino della Fox Film, 1929, 1935 (selected issues)

Bollettino delle grandi films, 1916-1917

Bollettino di informazioni cinematografiche, 1924-1925. Museo Nazionale del Cinema

Bollettino quindicinale della Società italiana Pineschi, 1909 (selected issues)

Bollettino staffetta dell'ufficio stampa dell'anonima Pittaluga, 1929. Museo Nazionale del Cinema

La Bottega delle ombre, 1926. Museo Nazionale del Cinema

Il Cafè chantant: guida del varieté italiano,

1910 (one issue)
1911, 1913, 1916-1918, 1920. Museo Nazionale del Cinema

Il Capolavoro cinematografico, 1926. Museo Nazionale del Cinema

La Casa di vetro, 1924 (one issue). Museo Nazionale del Cinema

Cin (Battaglie cinematografiche), 1918. Museo Nazionale del Cinema

Cin (Cine-gazzetta), 1918. Museo Nazionale del Cinema

Cine, 1917. Museo Nazionale del Cinema

Cine gazzettino, 1926-1931. Museo Nazionale del Cinema

Cine mondo, 1927-1931. Museo Nazionale del Cinema 

Cine sorriso illustrato,

1928-1931. Museo Nazionale del Cinema
1930-1931 (selected issues)

Cine-cinema:

1926 (one issue)
1926-1927. Museo Nazionale del Cinema

La Cine-fono e la rivista fono-cinematografica, 1911-1914, 1916, 1918, 1919-1920, 1922. Museo Nazionale del Cinema 

La Cine-gazzetta, 1916-1918. Museo Nazionale del Cinema

Cine-romanzo, 1929-1932. Museo Nazionale del Cinema

Cinema (Firenze), 1923. Museo Nazionale del Cinema

Cinema (Napoli), 1913-1914. Museo Nazionale del Cinema

Cinema Ambrosio, 1916, 1925. Museo Nazionale del Cinema

Il Cinema illustrato, 1928. Museo Nazionale del Cinema

Il Cinema italiano, 1926-1927, 1930. Museo Nazionale del Cinema

Cinema Illustrazione, 1930-1939


Cinema Star, 1926-1927. Museo Nazionale del Cinema

Cinema-teatro, 1928-1930. Museo Nazionale del Cinema

Cinemagraf, 1916-1917. Museo Nazionale del Cinema

Cinemalia, 1927-1928. Museo Nazionale del Cinema

La Cinematografia

1927-1928. Museo Nazionale del Cinema
1927, 1932 (selected issues)

La Cinematografia artistica, 1912. Museo Nazionale del Cinema

Cinematografia e proiezioni, n.d. Museo Nazionale del Cinema

La Cinematografia italiana, 1909. Museo Nazionale del Cinema

La Cinematografia italiana ed estera, 1910, 1914-1916, 1922-1923. Museo Nazionale del Cinema

Il Cinematografo, 1919. Museo Nazionale del Cinema

Cinematografo (Roma):

1927-1931. Museo Nazionale del Cinema
1927-1931

Cinematografo (Trieste), 1924. Museo Nazionale del Cinema

Cinemundus, 1919. Museo Nazionale del Cinema

Coltura cinematografica, 1920-1921. Museo Nazionale del Cinema

La Conquista cinematografica, 1921. Museo Nazionale del Cinema

Contropelo, 1917-1920, 1923. Museo Nazionale del Cinema

Il Corriere cinematografico, 1925-1930. Museo Nazionale del Cinema 

Corriere del cinematografo, 1921. Museo Nazionale del Cinema

Cronache d'attualità, 1916, 1919-1922. Museo Nazionale del Cinema

Cyrano, 1913. Museo Nazionale del Cinema

La Decima musa, 1920. Museo Nazionale del Cinema

La Domenica del cinema, 1929. Museo Nazionale del Cinema

La Donna: rivista quindicinale illustrata, 1910

Echi del cinema, 1926. Museo Nazionale del Cinema

L'Eco del cinema, 1924-1930. Museo Nazionale del Cinema

Eco film, 1913. Museo Nazionale del Cinema

Excelsior, 1916. Museo Nazionale del Cinema

Fantasma (Napoli/Roma), 1916, 1920, 1923. Museo Nazionale del Cinema

Fantasma (Roma), 1920. Museo Nazionale del Cinema

Il Fascio di luce: cinematografico artistico:

1928-1929 (selected issues)
1928. Museo Nazionale del Cinema

Fiandreide, 1908. Museo Nazionale del Cinema

Figure mute:

1919 (one issue)
1919. Museo Nazionale del Cinema

Film: corriere dei cinematografi, 1921-1922 (selected issues)

Film, 1914-1920, 1926-1927. Museo Nazionale del Cinema

Film Pittaluga, 1925. Museo Nazionale del Cinema

Films Pittaluga, 1923-1926. Museo Nazionale del Cinema

Firenze cinema, 1928. Museo Nazionale del Cinema

Fortunio, 1920. Museo Nazionale del Cinema

I Grandi artisti del cinema, 1926-1927

L'Illustrazione cinematografica, 1912, 1914-1915. Museo Nazionale del Cinema

Iride, 1914. Museo Nazionale del Cinema

In penombra:

1918-1919. Museo Nazionale del Cinema
1918-1919, selected issues

L'Italia e Kines, 1926. Museo Nazionale del Cinema

Kinema, 1929-1930. Museo Nazionale del Cinema

Kines:

1928-1931. Museo Nazionale del Cinema
1929-1932 (selected issues)

Lux (Napoli):

1909-1910. Museo Nazionale del Cinema
1910, one issue

Lux (Roma), 1918, 1920-1921. Museo Nazionale del Cinema

Lux e cine, 1910-1911. Museo Nazionale del Cinema

Il Maggese cinematografico, 1913-1914. Museo Nazionale del Cinema

Il Messaggero: giornale del teatro e del cinematografo, 1925 (one issue)

Mirabilia film, 1927. Museo Nazionale del Cinema

Il Mondo a lo schermo, 1926. Museo Nazionale del Cinema

Motofilm, 1916-1917. Museo Nazionale del Cinema

Pathé Baby: Bollettino della società italiana "Pathé Baby", 1928-1930. Museo Nazionale del Cinema

Penombra, 1917-1918. Museo Nazionale del Cinema

Piccola, 1935-1936 (selected issues)

Proiezioni luminose, 1924-1926. Museo Nazionale del Cinema

Rassegna delle programmazioni, 1925-1926. Museo Nazionale del Cinema

Rassegna fotografica, 1927. Museo Nazionale del Cinema

Rassegna generale della cinematografia, 1920-1921. Museo Nazionale del Cinema

La Rivista cinematografica, 1920-1930. Museo Nazionale del Cinema

Rivista internazionale del cinema educatore, 1929-1930. Museo Nazionale del Cinema

Il Romanzo film, 1920-1921. Museo Nazionale del Cinema

Il Selvaggio, 1935 (one issue)

Lo Schermo, 1926-1927. Museo Nazionale del Cinema

La Settima arte, 1924-1931. Museo Nazionale del Cinema

Società anonima Ambrosio, 1907. Museo Nazionale del Cinema

Sor Cappana, 1919. Museo Nazionale del Cinema

Lo Spettacolo, 1919-1920. Museo Nazionale del Cinema

Sullo schermo, 1927-1928. Museo Nazionale del Cinema

Supercinema, 1927-1928. Museo Nazionale del Cinema

La Tecnica cinematografica, 1914. Museo Nazionale del Cinema

Theatralia, 1925. Museo Nazionale del Cinema

Il Tirso / Il Tirso al cinematografo, 1914-1916. Museo Nazionale del Cinema

Triumphfilm, 1912, 1914. Museo Nazionale del Cinema

La Vita cinematografica, 1911-1915, 1917-1924, 1929-1930. Museo Nazionale del Cinema
 

Japan

Contributors: Patrick Ellis, Aaron Gerow, Matthias Grottendieck

Sources: Hathi Trust

Note: Hathi Trust sources are restricted due to copyright. Some issues are available in full view from US servers only.

Titles:

Katsudō kurabu 1919-1921

Katsudō shashinkai (The cinematograph), 1911

Kinema junpō 1919-1922

Kinema rekōdo 1913-1917
 

Netherlands

Conributors: Matthias Grottendieck, Katherine Nagels

Sources

Eye Film (digital collections)
www.virtual-history.com
Internet Archive

Note: For documents from Eye Film, we've linked to the search engine, where users will need to perform their own search. (For best results, uncheck all categories on the search page except for "digitaal" and "tijdschriften" and type in keywords from the journal title).

Titles:

De bioscoop – courant, 1913-1920

Cinema en Theater, 1921-1922

Film en kultuur, 1943-1944

De Kinematograaf, 1913, 1915-1919

Kunst en amusement, 1920-1927

Het weekblad cinema en theater, 1931

 
 

Poland

Contributor: Matthias Grottendieck

Source: Digital Library of Wielkopolska

Titles:

Kinematograf Polski, 1919-1921
 

Portugal

Contributor: Matthias Grottendieck

Sources: Cinemateca Portuguesa, Hemeroteca Digital

Titles:

Animatógrafo, 1933-1942

Cine, 1934

Cine: revista mensal de arte cinematográfica, 1928–1930

Cinearte, 1926-1930

Cinema: semanário cinematográfico, 1932

Cinegrafia, 1929-1930

Cine-Jornal, 1935-1936

O filme: semanário de propaganda cinematográfica, 1934

Invicta Cine, 1931-1936

Movimento: cinema, arte, elegâncias, 1933-1934
 

Russia

Contributor: John MacKay, Matthias Grottendieck

Sources:

Journals of the USSR
Monoskop
Brill Primary Sources

Titles:

Kino-fot, 1922-1923

Sovetskij Ekran / Soviet Screen, 1925-1929 (+various years from 1957-1996)

**A large collection of early Russian cinema journals is available through Brill Primary Sources. This is a paying service. Link
 

Spain

Contributor:Matthias Grottendieck, Katherine Nagels

Source: Filmoteca de Catalunya, Biblioteca Digital Memoria de Madrid

Titles:

A.R.S., 1927-1931

Actualidades Paramount, 1935-1936

Año Metro, 1932

Antorcha, 1935 – 1936

Art de la Llum, 1933-1935

Arte y cinematografía, 1910-1936

Boletín de información cinematográfica, 1922-1926

Boletin técnico-administrativo de la Asociación Mutual de Operadores de cine de Cataluña, 1935-1936

Buenas Noches,  1944-1946

Celuloide Madrileño, 1936

Cine: revista popular ilustrada, 1912-1923

Cine Art: la moderna revista de cinematografia, 1933-1935

Cine Arte, 1934-1935

Cine Experimental,1944-1946

Cinelandia y Films, 1930-1936

Cinema Amateur, 1932-1936

Cinema: edición popular, 1916

Cinema: revista semanal ilustrada, 1921

Cine Mundial, 1922-1948

Cine Popular,1921-1924

Cine-Revista, 1921-1924

Cine-Star : magazine mensual cinematográfico, 1935-1936

Cinòpolis: la revista humorística de cinema, 1929

Cri-cri cinematográfico, 1923

España teatral cinematografica, 1921-1922

Fantasio : revista de espectáculos, 1927

Films Selectos, 1930-1936

Filmopolis, 1933-1936

Films, 1926-1928

Films selectos, 1930-1937

Información cinematográfica : revista professional, n.d.

Jueves cinematográficos, 1927-1936

Mundo cinematográfico, 1913-1921

Mundo cinematográfico. Edición popular, 1917-1921

Nº1 : revista mensual cinematográfica, 1936

Noticiario CIFESA, 1935-[1964]

Nuestro cinema, 1932-1935

Nuevo cinema, 1937-1938

Orientaciones, 1935-1936

Otro cine, 1952-1975

Pathé-Revista, 1917-1919

Película,1915-1916

Películas : revista ilustrada de cinematografía, 1924

Popular Film, 1926-1937

Progreso fotografico, 1920-1936

Proyector, 1935-1936

Publi-Cinema, 1934-1936

Revista Gaumont, 1913

Rugido del león, 1935-1956

Siluetas, 1930

Sombras, 1939-1941

Studio-Films, 1916

Súper-Cine, 1932-1933

Titán Radio, 1935-1936

Tras la pantalla, 1920-1922

Vida gráfica, 1915-1920
 

Sweden

Contributor: Christopher Natzén

Sources:

http://filmarkivforskning.se/ (Film historical platform of the National Library of Sweden)
www.virtual-history.com

Titles:

Biografen, 1912-1915

Filmnyheter, 1923

Nordisk Filmtidning, 1909-1910

Pathé Frères' Veckorevy, 1911

Stjernen, 1908
 

Switzerland

Contributors: Adrian Gerber, Yvonne Zimmermann

Sources:

Swiss National Library
Seminar für Filmwissenschaft der Universität Zürich
ETH Library (Swiss Federal Institute of Technology), e-periodica
Media History Digital Library

Titles:

Close-Up (Zürich, London, Paris), 1927-1933

L'Ecran illustré, 1924-1927

L'Effort cinégraphique suisse / Schweizer Film Suisse, 1930–1944

Kinema (Zürich, 1913-1919), 1913-1919

Zappelnde Leinwand / Schweizer Illustrierte Filmwoche, 1920-1926 
 

Turkey

Contributors: Nezih Erdogan, Nihan Dogan

Sources:

SALT GALATA e-publications
Tokyo University of Foreign Studies
MİLLİ KÜTÜPHANEBAŞKANLIĞI, National Library of Turkey

Notes:

Materials from the Tokyo University of Foreign Studies (TUFS) in the open access list require djvu software, which does not work on all browsers. For these materials, we've linked to the master list, and users will need to search for the specific title.
Materials from the National Library of Turkey are available for library members only.

 

Open Access

Artistik Sine/Artistic Cine, 1926-1927

Le Film – Film Mecmuası, 1925, 1927-1928

Mudhike: roman, tiyatro ve sinema mecmuasi, 1340 / 1924

Sinema Mihveri, 1926

Sinema Postası/Le Courrier du Cinema, 1339 / 1923

Sinema Yıldızı, 1340 / 1924

Tiyatro ve Musiki, 1928

Temaşa, 1334-336 / 1918-1920

Tiyatro ve Temaşa Mecmuası, 1329 / 1913 

Artistik Sine / Artistic Cine, 1926-1927

Film Mecmuası / Le Film, 1926-1927

Musavver Türk Sineması / Le Cine Turc, 1927

Sinema, 1915

Sinema Postası / Le Courrier du Cinema, 1924

Sinema Rehberi, 1924

Sinema Yıldızı, 1924
 

United Kingdom

Contributors: Patrick Ellis, Matthias Grottendieck, Tom Rice

Sources:

Archive.org
Cinema St Andrews
Hathi Trust
Margaret Herrick Library
ProQuest Entertainment Industry Magazine Archive

Titles:

The Bioscope, 1912-1915

The Cine Technician, 1935-1956

Cinema Chat (London), 1919-1920

The Cinema News and Property Gazette, 1912-1946

Cinema Quarterly, 1933-1945

Colonial Cinema, 1942-1944, 1945-1954

Documentary News Letter, 1940-1948

Film Weekly (London), 1928-1939

The Filmgoer's Annual, 1932

Home Movies and Home Talkies,1932-1934

Illustrated Films Monthly, 1913-1914

The Optical Lantern and Cinematograph Journal (London), 1904-05

Picture Show, 1920-1921

Picture Show Annual, 1926-1961

Picture Stories Magazine (London), 1914–15

Pictures and the Picturegoer (London), 1913-1960

Sight & Sound, 1932-1995

The Stage, 1908-1919

Today's Cinema and Property Gazette, 1913-1915

Weekly Kinema Guide: London Suburban Reviews and Programmes, 1930

World Film News and Television Progress, 1936-1938
 

United States

Contributor: Patrick Ellis

Sources:

Archive.org
Hathi Trust (excepting single issues)
Margaret Herrick Library
Media History Digital Library
Biblioteca Digital Memoria de Madrid
ProQuest Entertainment Industry Magazine Archive

Titles:

American Cinematographer (Los Angeles, 1920-present), 1920-1923, 1921-1942

Billboard (Cincinnati / Los Angeles, 1894-present),1894-1921, 1921-1960

Boxoffice (New York, 1920-present), 1936-2000

Cinelandia y Films: La Mejor Revista Cinematográfica (Los Angeles), 1930-36

Cine-Mundial (New York), 1916-46

Close-Up (Los Angeles), 1920-23

Note: for the Swiss journal Close-Up, see under Switzerland

Exhibitors Herald (Chicago,1917-1930),  1917-1927(selected issues)

Exhibitor's Times, 1913

Film Daily (New York, also Wid's Daily), 1918-49

Film Fun (New York), 1915-4

Film Players Herald and Movie Pictorial (Chicago), 1916

Filmplay (Indianapolis), 1921-22

Film Truth (New York), 1920

The Implet (New York), 1912

Movie Pictorial (Chicago), 1914-15

Moving Picture Stories (New York), 1917

Motion Picture, also titled Movie Story Magazine, Hollywood Magazine, Screen Life, Movie Classic (New York) 1911-1923

Motion Picture Story Magazine (Brooklyn), 1911-14

Motion Picture News (New York, 1913-1930), 1913-1930

Motography (Chicago, 1909-1918), 1911-18

Movie Monthly (New York), 1925 

Movie Weekly (New York), 1922

Movies (New York), 1930-1934

Moving Picture Weekly (New York, became Universal Weekly) 1915-37

Moving Picture World (New York, 1907–1927), 1907-1927

The Nickelodeon (Chicago), 1909-11

The Photo-Play Author (Springfield, MA), 1914-15

The Photo-Play Journal (Philadelphia), 1916-19

Photoplay Magazine (Chicago) 1912-22

The Photo-Play Review (Philadelphia), 1915

The Photoplayers Weekly (Los Angeles), 1915-16

The Photo-Play World (Philadelphia), 1918-19

The Photo Playwright (Boonville, IN), 1912

Picture Play (New York), 1931-1932

Picture Play Magazine (New York), 1915-38

Screenland (Chicago), 1920-59

Silverscreen (Los Angeles), 1922

Sound Waves (Los Angeles), 1928-1929

The Universal Weekly, 1912

Variety (New York / Los Angeles, 1905-present), 1905–1954

Visual Education (Chicago) 1920-1922
 

Uruguay

Contributor: Andrea Cuartorolo

Sources: Universidad de la República de Uruguay, Facultdad de Información y Comunicación

Titles:

Cinema y Teatros (Montevideo), 1920-1921

Cine Revista (Montevideo), 1922-1922

Semanal Film (Montevideo), 1920

Vida teatral y cinematográfica (Montevideo) 1926
Catalogues
Contributor: Camille Blot-Wellens
Catalogues are organized by company. Sources: A: archive.org / CF: Cinémathèque francaise / LoC: Library of Congress / RU : Rutgers University (from several collections)
 

Edison

Thos. A. Edison's Kinetoscope. (1894) RU

Catalogue: Edison and International Films. (1897) RU

Lumiere Films, Edison Films, International Films. (1897) RU

International Photographic Films. (1897-1898) RU

Supplement No. 4, War Extra – Edison Manufacturing Films. (1898) RU

No. 94, Edison Films, March 1900, Complete Catalogue RU

No. 105, Edison Films, July 1901, Complete Catalogue RU

No. 135, Edison Films (1902) RU

No. 142, Edison Films (1902) RU

No. 162, Edison Films. (1902) RU

No. 168, Edison Films, February 1903, Supplement. RU

No. 175, Edison Films, May 1903, Supplement. RU

No. 185, Edison Films, October 1903, Supplement. RU

No. 200, Edison Films, January 1904, Supplement.RU

No. 222, Edison Films, September 1904, Supplement. RU

No. 225, Edison Films to July 1, 1904. RU

No. 268, Edison Film, Watermelon Patch, 24 October 1905.RU

No. 270, Edison Film, Down on the Farm, 2 November 1905. RU

No. 288, Edison Films, July 1906. RU

No. 315, Edison Films, January 1907, Pocket Edition. RU

No. 380, Edison Kinetoscopes, 1 September 1908. RU

Film Catalogue.(1905-1914) RU

More on specific titles and documents from Edison on RUCore.

See also Inventing Entertainment: The Early Motion Pictures and Sound Recordings of the Edison Companies LoC
 

Lubin

Complete Catalogue (1903)RU

Lubin's Films (1904)RU

Lubin's Films (1905)RU

Lubin's Films (1905)RU

Lubin's Films (1905)RU

Lubin's Films (1905)RU

Lubin's Films (1905-1906)RU

Lubin's New Films (1905-1906)RU

Lubin's Films (1907)RU

Lubin Films Released During the Month of October (1909)RU

Lubin Films Released November 1 to 15 (1909)RU

Lubin Films Released from November 15th to 25th (1909)RU

Lubin Films Released from November 29th to December 16th (1909)RU

Lubin Films Released from December 20th to December 30th (1909)RU

Catalogue No. 3 (n.d.)RU

[Lubin's Films] (n.d.)RU

Lubin's New Films (n.d.)RU

More on specific titles on RUCore
 

Lumière

Lumiere Films, Edison Films, International Films. (1897) RU

Catalogue Général des Vues Cinématographiques Positives de la Collection Lumière (1901) RU

See also Catalogue Lumière
 

Pathé

Cinematographes Films (1903, May) RU

Pathé Films (1904, US) RU

Supplement for January 1904 RU

Supplement for February 1904 RU

Supplement for March and April 1904 RU

Supplement for May-June 1904 RU

Pathé Films (1906, US) RU

More on specific titles on RUCore

See also Filmographie Pathé on the website of the Fondation Jérôme Seydoux-Pathé
 

Paul

Army life; or, how soldiers are made : illustraded from a series of animatograph pictures (1900)CF

Catalogue of Paul's animatographs & films (1903)CF

Animated photographs of the West of Ireland : depicting the life, scenery and industries of counties Clare, Galway and Mayo (n.d.)CF
 

Urban
 

Vitagraph

List of New Films, American and Imported. Boer War, Comedy and Mysterious Subjects (n.d.) RU

New Vitagraph Features! (1903-1904) RU