---
By Rebecca Ora
This is a big year for the San Francisco Silent Film Festival. 2022 marks the 25th anniversary of the festival that started as a one-day event in the effort to introduce the splendor of silent films to audiences–or reintroduce them in their full glory: in their finest possible prints (many screenings featured new comprehensive cuts and restorations) projected at proper speeds and accompanied by live music played by top musicians. This is also the 100th anniversary of the historic Castro Theatre, a fitting site for the SFSFF since it dates back to the moment of creation of so many of the festival offerings. 
This was a festival experience that invoked contemplation around liveness and the relationship of the present to the past for numerous reasons. This is the first year of the festival's return since the COVID pandemic canceled all public events in 2020; for screenings that demand careful musical performance, this renewed liveness is key. Additionally, questions surrounding the longevity of the Castro as a screening space have hummed since its recent sale to a live music production company with big plans.
In Liveness: Performance in a Mediatized Culture, Phillip Auslander problematizes the strict dichotomy of live and technologized arts, concluding that "spontaneity, community, presence, and feedback" imbue mediatized formats with "liveness." All of these were present in full force in the Castro Theatre during the week of the festival. The electricity in the theater while the audience–back from being forced to watch, alone, on a streaming service–gathered together was palpable, even as we sat in our seats mostly masked and appropriately distanced. Introductory quips that "I hope the music will be in sync!" and the conspicuous laughter, hissing, and applause of the audience allowed for a much-needed sense of community and interactivity around films that were initially screened before garrulous, participatory crowds. When a projection glitch on the final night forced the pausing then restarting of the film, the audience was particularly excited: here, attention to detail matters, and we were rooting for the projectionist and musicians to perform their craft for us as best they could.
Since so many films had been in line for screening at past never-to-occur festivals canceled on account of the pandemic, there were several unintentional pairings. The festival boasted two Erich von Stroheim films: a new restoration of Foolish Wives (1922) on opening night was balanced by Blind Husbands (1919). In both, Stroheim plays a womanizing villain (the Tinder Swindler of the early 20th century?) who ultimately meets his doom after being discovered.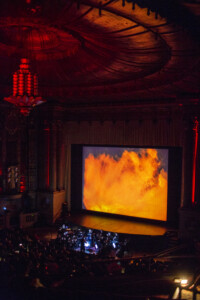 (Foolish Wives, photograph by Pamela Gentile, 2022)
The festival also offered two Oscar Wilde adaptations, both of which rise to the challenge of presenting Wilde's prose in visual form. Salomé (1922) is an erotic fever-dream that sets Aubrey Beardsley's art deco illustrations into sumptuous motion. Minimal but detailed sets and Natacha Rambova's costumes adorn the fabulously campy Nazimova (storied to be the actual director of this film) so magnificently that I was convinced, by the end, that I could surely pull off a pearled headdress in daily life. Introductions by local drag queen Peaches Christ and arts and culture reporter Tony Bravo announced unequivocally that this is a queer film and a drag film, and all its actors are rumored to have been gay or bisexual. The audience cheered heartily. 
Lady Windermere's Fan (1925) uses visual wit to approximate Wilde's literary wit. Cuts to sly looks stand in for biting remarks, and an artful use of a slow wipe earns a nominal moment big laughs. The story of a mysterious woman seeming to situate herself at an opportune angle to high society has a ridiculous premise: Lord Windermere pays off his wife's long-absent mother to remain silent about her identity because his wife simply "worships her dead mother" and the woman's discovery would shatter this illusion. In addition to many creative directorial choices, the film owes its success to the spot-on performance of Irene Rich, whose eyes in a scene with her unwitting daughter, large as saucers, dance with tears that hold all the conflicting emotions of the plot while remaining understated enough to allow the comedy to move along trippingly. 
On a far more lugubrious note, Lupu Pick's kammerspielfilm Sylvester (1924) juxtaposes harrowing scenes of domestic emotional conflict with New Years Eve revelry, painting a picture of impending doom rather than hopeful enthusiasm for the future. The performances of the family (a woman, a man, a mother-in-law and a baby) provide the foundation of the film's emotional content without the aid of intertitles, while cuts to the ocean, a churchyard with beggars and a wounded soldier, high-class partygoers and lower-class barflies provide context and juxtaposition. The clock creeps forward toward midnight and impending tragedy, as an "untethered" camera and speeding cars build tension. 
The obverse of this cynicism might be seen in the Danish A Trip to Mars (1918), a space-travel film that eschews the delightful silliness of Méliès' moon excursion in favor of a serious contemplation of utopia. The Martians, clad in Grecian robes and festooned with flower garlands, have learned to live in peace with one another and their environment as hippie vegan pacifists. The protagonist, Captain Avanti Planetaros, falls in love with one of the Martians and brings her back to earth; will this enlightened being in our midst help us transcend our belligerent ways?
Mikhail Kalatozov's Salt for Svanetia (1925), a Georgian propaganda film too formalist for official soviet tastes, depicts the backward Svans as they try–and fail–to live amid brutal environs. The people toil on the land to bring forth barley in the harsh mountains where they and their animals are starved for salt. The hunger is palpable as the camera and its subjects, throughout their other tasks, seek the minerals they crave in the bodily fluids discharged through their toil: "urine contains salt;" "sweat contains salt"… In the denouement, a woman exiled for giving birth during a funeral–considered a curse under their stifling religious beliefs–tries to and fails to produce milk for her child. The bitter irony of this creative ethnography was echoed in Luis Buñuel's iconic 1933 Land Without Bread, albeit with more attention to parodying the documentary form and calling attention to the viewer's expectations vis-á-vis the wretched Hurdanos. 
The short screened before Svanetia, a Soviet hygiene film titled 10 Minutes in the Morning, impels us to spend a brief period every day exercising, as Lenin would have wanted. Whereas this prescriptive short might normally take on a more campy air as it shows us scantily clad Eastern Europeans demonstrating all manner of outdated calisthenics with dead-serious faces, the later parts of the film that "say the silent part out loud"–that the imperative to improve one's health is in preparation for warring for the nation, overtly depicted through tanks and explosions–is too on-the-nose in the wake of the current carnage resulting from Russia's recent invasion of Ukraine and the disinformation campaign that buttresses the unprovoked war.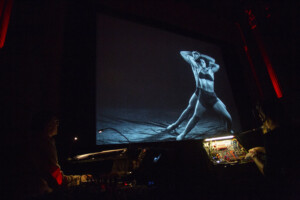 (Ten Minutes in the Morning, photograph by Pamela Gentile, 2022)
This year's festival landed just days after a leaked US Supreme Court document signalled the impending end of national abortion rights; across town, protesters gathered with signs decrying the retrogressive stripping of rights that have been held for fifty years. Meanwhile, at the Castro, we knowingly picked and chose the parts of the past for which we hold nostalgia, even as many of the (racial, gendered, classist) mores depicted onscreen run against the ethos of largely politically progressive crowds. Like the charming costumes worn by so many festival goers, we would like to don the lovely parts of history but eschew the uncomfortable ones.
(Rebirth of a Nation, photograph by Pamela Gentile, 2022)
The most obvious space for grappling with the distance between history and our present varyingly-successful struggles to transcend it was located in the screening of DJ Spooky's Rebirth of a Nation, a remix of DW Griffith's scathingly racist epic. Rebirth, which Spooky (nee Paul D. Miller) has presented to audiences since 2007, reduces the film to some of its most virulent tropes and demands its assessment–unlike instructions from so many introductory film teachers–not despite its racism but because of it. The poppy soundtrack and digital effects invite our contemporary eyes to look upon this film with all its glaring problems. The viewer's confrontation of Griffith's false and damaging history (the film not only revived the KKK but also inspired the Klan's haunting aesthetic stylings) in a forum surrounded by other viewers of different backgrounds and ethnicities demonstrates the power of liveness and co-viewership. While challenging, it was ultimately good to be back. 
---
Rebecca Ora is a video artist, performance artist and scholar located in California. Her darkly comedic practice contends with the limits of "appropriate" representation of trauma (and their transgressions). Rora holds an MFA from California College of the Arts in Social Practice, and a PhD in Film & Digital Media from UC Santa Cruz, where her multimedia doctoral dissertation is titled Barbaric Poetry. She has exhibited at Steven Wolf Fine Arts, Yerba Buena Center for the Arts, Root Division and Los Angeles Contemporary Exhibitions (LACE), among many others. Her many publications include "Invisible Evidence: Serial and the New Unknowability of Documentary" in Podcasting: New Aural Cultures and Digital Media (2018) and "Remaking Absurd Pictures" in the forthcoming Constructions of the Real: Intersections of Practice and Theory in Documentary-Based Filmmaking. The latter writing describes the process of retracing Luis Buñuel's route in Las Hurdes to yield a series of memes. Rora is the founder of the Rebecca Ora Award for Risk-Taking in the Arts. rebeccaora.net