By Martin L. Johnson
For historians of early and silent cinema, the specter of firstness haunts our work. For last year's Domitor conference, the theme of "provenance" placed these concerns at the center of the conversation, even as many presenters took up the opportunity to question notions of firsts, originals, and teleological thinking. Even so, two of the most discussed early cinema events of the past year—the naming of Something Good—Negro Kiss (1898) to the National Film Registry and the wide release of Pamela Green's Be Natural: The Untold Story of Alice Guy-Blaché (2018)—were both presented as "firsts" in the history of the medium.
For the 10th meeting of Women and the Silent Screen, held in Amsterdam in late May, presenters worked with, and through, a conference theme contraposed to singularity—sisters. In the call circulated last year, conference organizers took care to emphasize the capaciousness of the theme, incorporating sisterly acts and concepts, not just blood relations, though there were ample examples of familial sisters over the four-day conference. But, even more importantly, the conference theme served as an opportunity to discuss what it means to do scholarly work in a moment when issues of solidarity and community are at the fore.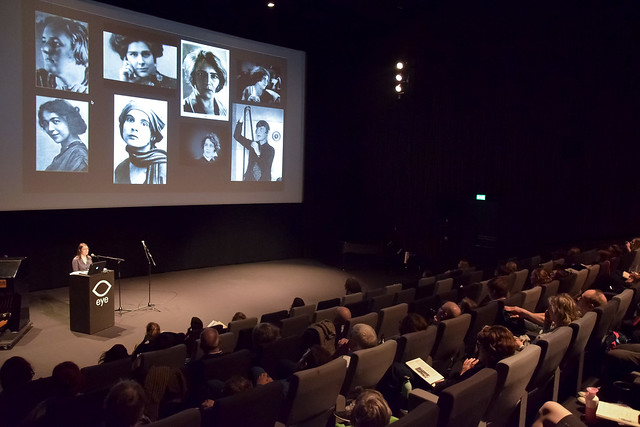 This year's Women and the Silent Screen arrived at a moment in which feminist film history is ascendant. Hollywood's complicity in the abuses of Harvey Weinstein encouraged many in the motion picture industry to move from acknowledging past claims of sexual violence and abuse to pushing for gender equality. Once forgotten women film pioneers, like the aforementioned Alice Guy-Blaché and Lois Weber, whose 1916 film Shoes was screened at the first ever meeting of Women and the Silent Screen (in 1999), are now recognized for their contributions to film history, turning what was once a surprising revelation about film history, that women had more power in Hollywood in the 1910s than they do today, into a challenge for our own time. One could easily imagine a scenario in which feminist film historians march in step with advocates for women in the industry today, turning Guy-Blaché, Weber, Germaine Dulac, Lotte Eisner, alongside lesser known women discussed in Amsterdam, such as Lilja Brik, Margit Kornai, and Elvira Notari, as the vanguard of a long revolution. Sisters, indeed.
And yet, many of the presentations at WSS10 subverted this idea of sisterhood, revealing that many of the texts in questions were actually twins, copies with varying degrees of difference, all challenging singular, and masculinist, ideologies that celebrate great works and greater artists to the exclusion of everything else. Emphasizing firsts, even in the spirit of sisterhood, often results in the unfortunate byproduct of what Shelley Stamp calls the "woman in a box" problem, referencing those film history textbooks that limit their recognition of women and non-white individuals to call-out boxes, thus adding diversity to textbooks without rethinking their core claims and organization.
To note that women were actively involved in all aspects of film production, distribution, and exhibition in the silent era is no longer a revelatory claim. However, the presentations at WSS10 revealed how little we know about what are believed to be well documented chapters in film history. For example, in her presentation on Lilja Brik, Adelheid Heftberger noted that Brik, like other Soviet women working in cinema, such as Esfir Shub and Elizaveta Svilova, were seen by Soviet male filmmakers as merely editors, while creativity was reserved for those who stood behind the camera.[1] Earlier in the same panel, Karen Pearlman argued for editing as a creative practice, and a form of thinking, a point echoed in her recent short documentaries on women film editors. While these arguments could lead to a reassessment of auteur theory more broadly, making editing, rather than directing, the essence of cinema, Pearlman and others at the conference, such as Kate Saccone, Liz Clarke, and Jacqueline Stewart, instead argued for the value of anonymous, unheralded, and collective work, with each individual story providing a glimpse into how the machinery of cinema is assembled, taken apart, and reassembled over time.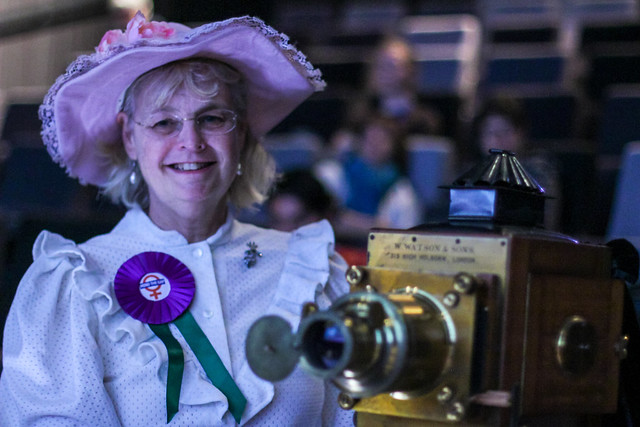 In a sense, these discussions on the mechanisms of cinema, particularly the emphasis on broad fields of film practice rather than individuals, recalled the situation of feminist film scholarship before Women and the Silent Screen was established. Feminist investigations into classical Hollywood cinema, led by Laura Mulvey, Mary Anne Doane, Teresa de Lauretis, and many others, gazed through the image in order to find ample evidence of white patriarchal, and often colonial control, missing the presence of dissenting perspectives, and leaving out entirely work made by those individuals who had already been excluded from the film canon. The historical turn in the field that began in the 1980s laid the groundwork for the establishment of new societies dedicated to promoting scholarship based on archival research. Since the 1990s, there have been several new generations of scholars interested in moving beyond textual analysis to figure out how individuals and systems actually worked in early and silent cinema, while simultaneously retaining a skepticism of master narratives.
In Amsterdam, there was a sense in the room that, twenty years later, Women and the Silent Screen had succeeded in its challenge to remake film history into a field that acknowledged the contributions of women. But there was an equally strong sense that this by itself was not enough, that even making Lois Weber, not D.W. Griffith, the patron saint of early Hollywood would not do enough to challenge a field that was built on, and continues to construct, patriarchal concepts. While looking for firsts is an important step, as is documenting the role women played in creating and sustaining cinema in its first decades, the lasting contribution of WSS will be to give scholars frameworks for including not just women, but other underrepresented and unacknowledged groups in the histories of cinema that remain to be written.

---
[1] Adelheid Heftberger, "Female Networks in Silent Soviet Filmmaking? – Lilja Brik as a Filmmaker Next to her Contemporaries." Conference Paper. Women and the Silent Screen. Amsterdam. May 2019.