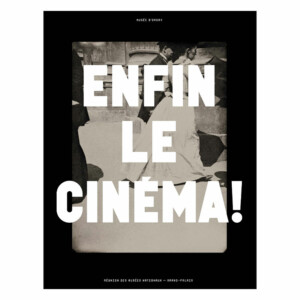 Like the exhibition it accompanies, the catalogue "Cinema at last!" brings together the French film production of the years 1895-1907 with the history of the arts, from the invention of photography to the first years of the 20th century, through a number of major subjects: the spectacle of the city, the rhythms of nature, the testing and exhibition of the body, the dream of a "heightened" reality through the reproduction of colour, sound and relief or through immersion, and finally the taste for history. It ended around 1906-1907, when films became longer, screenings were held in cinemas and discourses were institutionalised. The cinematograph became the cinema, both a place and a mass leisure activity.
Thematic essays by specialists in cinema, photography and painting are enriched by 300 illustrations of works, objects and films, both anonymous and signed by names well known to the general public, from Pierre Bonnard to Auguste Rodin, not forgetting Gustave Caillebotte, Loïe Fuller, Léon Gaumont, Jean Léon Gérôme, Auguste and Louis Lumière, Jules Étienne Marey, Georges Méliès, Claude Monet, Berthe Morisot, Charles Pathé or Henri Rivière. Congratulations to all the Domitor members who participated to this beautiful exhibition and publication !
Exhibition "Cinema at last! Arts, images, and entertainment in France 1833-1907" at the musée d'Orsay from 28 September 2021 to 16 January 2022 .
French language
336 pages / 350 illustrations
Catalog edited by Dominique Païni. Réunion des musées nationaux – Grand Palais / musée d'Orsay.