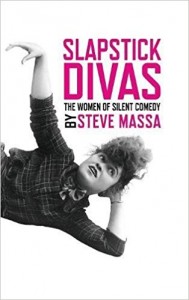 Silent slapstick comedies were not only the playground of male clowns. Comediennes such as Mabel Normand, Marie Dressler, Bebe Daniels, Dorothy Gish, Constance Talmadge, Marion Davies, and Colleen Moore brought riotous laughter to millions around the world, yet their hilarity may seem hidden to those only familiar with Charlie Chaplin, Buster Keaton, Laurel and Hardy, and Harold Lloyd.
Steve Massa rediscovers these hard-working and neglected women who helped make silent comedy a still effective art form, from the supporting players to the stars. He covers their contributions to comedy in over 600 pages and with 400 images devoted to virtually every female performer in silent comedy.
The first part of the book is dedicated to the most integral heroines of humor, with in-depth analyses of their hilarious performances. The second half is 475 bios of the other droll divas not covered in the chapters. This "heroic work" (Leonard Maltin) is outstandingly illustrated with rare movie scene shots, formal portraits, candid behind the scenes photos, film frame enlargements, trade magazine advertisements, lobby cards, stage photographs, artist's renderings and caricatures, and casting guide entries.