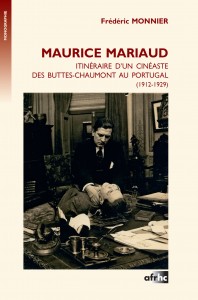 This is the first volume dedicated to Maurice Mariaud, French and Portuguese actor and director, author of about forty films and actor in about fifteen others by Feuillade, Fescourt, Lacroix, Perret, Burguet – in addition to his own.
Frédéric Monnier's research, which has been carried out over several years, summarizes the knowledge that can be gathered about this filmmaker who left no personal archive, no correspondence, no writing. Hired by Gaumont in 1911, Mariaud was trained by Feuillade, director and scriptwriter the following year, then director at Le Film d'Art, Eclectic Film, Phocéa, Louis Nalpas, Cinéromans and Caldevilla in Portugal. He has been involved in many genres (comedy, drama, fairy tale…). His work is marked by the "Gaumont aesthetic" – mastery of light and depth of field, a taste for dramatic close-ups and a restrained play. Greeted by Delluc and Moussinac in 1919-1920, he was one of the victims of the transition to talkies and became a playwright in the theatre and on the radio.
Ignored by historians, forgotten by archivists, his work is slowly resurfacing, with a dozen titles now found in several film archives (Archives Françaises du Film-CNC, Cinémathèque française, Deutsche Kinemathek, Eye Institute, Cinemateca Portuguesa, Gaumont Pathé Archives), several of which have been restored or are currently being restored. This book and the archival work linked to it (both in terms of research and restoration) thus more broadly involve a rediscovery of French (and Portuguese) cinema from 1910 to 1930, its themes, genres, professions, and the destinies that were achieved therein.