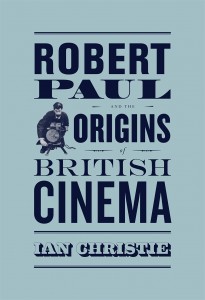 The early years of film were dominated by competition between inventors in America and France, especially Thomas Edison and the Lumière brothers . But while these have generally been considered the foremost pioneers of film, they were not the only crucial figures in its inception. Telling the story of the white-hot years of filmmaking in the 1890s, Robert Paul and the Origins of British Cinema seeks to restore Robert Paul, Britain's most important early innovator in film, to his rightful place.
From improving upon Edison's Kinetoscope to cocreating the first movie camera in Britain to building England's first film studio and launching the country's motion-picture industry, Paul played a key part in the history of cinema worldwide. It's not only Paul's story, however, that historian  tells here. Robert Paul and the Origins of British Cinema also details the race among inventors to develop lucrative technologies and the jumbled culture of patent-snatching, showmanship, and music halls that prevailed in the last decade of the nineteenth century. Both an in-depth biography and a magnificent look at early cinema and fin-de-siècle Britain, Robert Paul and the Origins of British Cinema is a first-rate cultural history of a fascinating era of global invention, and the revelation of one of its undervalued contributors. Editor's website
On the occasion of the 150th anniversary of Robert Paul's birth in 2019, ILYA and Ian Christie produced also a graphic novel, Time Traveller: Robert Paul and the Invention of Cinema, which is accessible at this page-turning website. Follow any updates on the blog Paul's Animatograph Works.