SYNOPTIQUE : An Online Journal of Film and Moving Image Studies 6:1
Institutionalizing Moving Image Archival Training:
Analyses, Histories, Theories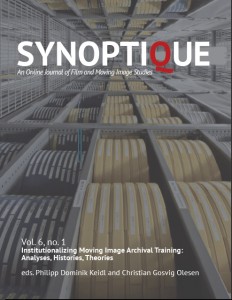 To speak of moving image archiving as a professional field with practitioners who have completed vocational training is a recent phenomenon. Numerous specialized degrees emerged since the late 1990s and early 2000s that prepare their graduates to work with all kinds of moving images in diverse institutional settings, ranging from local and national archives and museums to software developers and media corporations, among others.
This institutionalization of university-based archival training stemmed from an increased interest in moving image heritage, the expansion of archival networks, and the need to equip students with applicable expertise for careers in the cultural industries. They also emerged in a publicized awareness of the alleged crisis of the moving image in times of the increasing digitization of cultural heritage (Cherchi Usai 2001; Elsaesser 2016).
This issue tries to consider and reflect on the field's status today and yield critical insights into its histories and current ramifications. It aims to historicize and investigate the material, intellectual, and institutional history of archival training within and beyond university settings, while also offering an overview of new directions. Ultimately, the aim of this issue is to develop a better understanding of the social, political, and cultural forces that have shaped and defined archival training in the past and present and nourish continued critical reflection.
More than the institutionalization of established "best practices", archival training's different departmental homes within the humanities, social sciences, and sciences indicate differences in ontological and epistemological conceptualization of moving images and their role in culture. As such, this issue asks how archival training theoretically and practically impacts archives as sites of study as well as central spaces where moving image culture is collected, preserved, and displayed. Prominent practitioners and theorists provide answers to these questions
by offering insights into the multifarious turns and directions that the field has taken in the past few decades, and where it may go in the future.
Table of Contents :
Editorial
Is Film Archiving a Profession Yet? Reflections 20 years on
Articles
Forum Section
Book Reviews
Notes on Contributors
Call for Papers