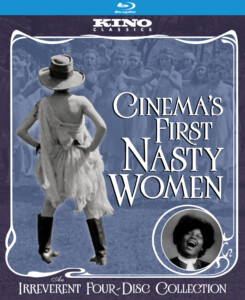 This four-disc set showcase more than fourteen hours of rarely-seen silent films about feminist protest, slapstick rebellion, and suggestive gender play. These women organize labor strikes, bake (and weaponize) inedible desserts, explode out of chimneys, electrocute the police force, and assume a range of identities that gleefully dismantle traditional gender norms and sexual constraints. The films span a variety of genres including slapstick comedy, genteel farce, the trick film, cowboy melodrama, and adventure thriller. Cinema's First Nasty Women includes 99 European and American silent films, produced from 1898 to 1926, sourced from thirteen international film archives and libraries, with all-new musical scores, video introductions, commentary tracks, and a lavishly illustrated booklet. Curated by Maggie Hennefeld, Laura Horak, and Elif Rongen-Kaynakçi, and produced for video by Bret Wood, Cinema's First Nasty Women is a partnership of Kino Lorber, Le Giornate del Cinema Muto, Women Film Pioneers Project, Eye Filmmuseum, FIC-Silente, and Carleton University. – Kino Lorber.
Access the 114-page open access booklet as a PDF (the Blu-ray comes with a beautiful print edition).
Get your copy here ! (US and Canada shipping only – extended shipping arriving soon).
To stay up to dates with news and screenings, consult the project's page on the Women Film Pioneers Project website.
Cinema's First Nasty Women already received glowing reviews. Congratulations Laura, Maggie, Elif and the brilliant team you have assembled to make this work possible !
"A mind-expanding endeavor, the set features 99 mostly comic rarities produced from 1898 to 1926, gleaned from archives and libraries across the globe. It is a triumph of scholarship." — Manohla Dargis, The New York Times
"It is, quite frankly, the greatest video release of 2022." — James Neibaur
"This ambitious compilation comes touting an explicit agenda: to reacquaint film history with the silent era's busy legacy of powerful, disobedient, autonomous women, in films that have been almost entirely neglected up until now." — Michael Atkinson, Sight and Sound.