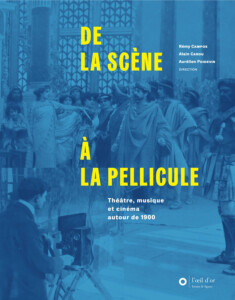 At the beginning of the 20th century, the emerging cinema had a close relationship with live performance. The processes of theater, opera, fairy tale, ballet or café-concert were used in the shooting theaters, the ancestors of film sets. The artists and technicians who built the sets, made the costumes and produced the film effects also worked in theaters in Paris and the provinces. Film directors have often been stage managers in theaters. In front of the camera, the actors repeat the same expressive gestures as in the limelight. Identical stories are told on stage or on screen. At every moment, early cinema draws new resources from old stage traditions.
This book (which can be translated as "From the Stage to the Celluloid") documents and questions the theatricality of cinema in France, notably based on productions of the Film d'Art, made between 1908 and 1912. The book contains a hundred illustrations, numerous unpublished sources and two DVDs. For 3 of the 20 restored films, the original musical accompaniment has been reinterpreted, recorded and synchronized, making it possible for the first time to recover the original projection conditions. The music for L'Assassinat du duc de Guise (by Camille Saint-Saëns) is played by the orchestra of the Haute école de musique de Genève conducted by Laurent Gay, while the music for L'Empreinte ou La Main rouge (by Fernand Le Borne) and Le Retour d'Ulysse (by Georges Hüe) is played on piano by Anne Le Bozec.
Table of contents:
Introduction – Rémy Campos, Alain Carou & Aurélien Poidevin
Le tableau vivant, ou quand la scène est devenue écran
The Living Pictures; Or, When Stage Became Screen – Valentine Robert
Les coulisses d'une restauration
Backstage of a Restoration – Interview with Béatrice de Pastre
La musique de scène en héritage. Composer pour le "Film d'Art" (1908-1909)
The Stage Music as a Legacy. Composing for the "Film d'Art" (1908-1909) – Quentin Gailhac
Jouer l'image
Playing the Image – Interview with Anne Le Bozec
L'Assassinat du duc de Guise: un décorateur de théâtre au cinéma
L'Assassinat du duc de Guise: A Theater Set Designer in Cinema – Iris Berbain
L'art de la synchronisation
The Art of Synchronization – Interview with Laurent Gay
Les couleurs du diable ou les usages des costumes de scène sur grand écran autour de 1900
The Colors of the Devil or the Uses of Stage Costumes on the Screen Around 1900 – Priska Morrissey
Enregistrer la musique de film
Recording Film Music – Interview with Didier Henry
Illusions fantasmagoriques. Les voyages fantastiques de Georges Méliès dans l'univers des marchandises
Phantasmagorical Illusions. The Fantastic Journeys of Georges Méliès in the World of Merchandise – Stéphane Tralongo
Mounet-Sully entre deux Œdipe
Mounet-Sully Between Two Oedipus – Frédérick Sully & Alain Carou
Dossier documentaire:
G[ustave] B[abin], "Le Théâtre cinématographique", L'Illustration, 31 octobre 1908
Correspondence of Henri Lavedan, literary director of the Film d'Art (1908-1909) – edited by Alain Carou & Agnès Hospitalier
Henri Lavedan, "L'Assassinat du duc de Guise", L'Illustration, 21 novembre 1908
Filmography 1908-1911 – Le Film d'Art
Synopsis – Le Film d'Art
La Grève des forgerons, unpublished script – Mounet-Sully
Presentation of the DVDs
2 DVDs (total duration of 4h 22min):
L'Assassinat du duc de Guise – L'Empreinte ou La Main rouge – Le Retour d'Ulysse – La Main – Un duel sous Richelieu – L'Enfant prodigue – Mireille – La Tour de Nesle – La Grande Bretèche – Une conquête – Moines et guerriers. Épisode du siège de Saragosse – Le Luthier de Crémone – Macbeth – Carmen – Lucien Fugère dans Don Juan – Jeanne Hatto dans Iphigénie en Tauride – Émile Cossira dans Roméo et Juliette – La Rançon du bonheur – Manon Lescaut – Œdipe roi.