British Silent Film Festival Symposium 2017
6-7 avril 2017
King's College, Londres
---
Description en anglais:
The British Silent Film Festiva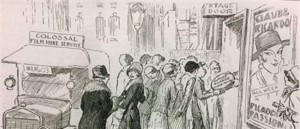 l affords scholars, archivists and enthusiasts the opportunity to re-asses film-making in Britain between 1895 and 1930. By bringing forgotten films out of the archive, and encouraging scholarly activity that can place those films in appropriate production and reception contexts, the festival has been the driving force behind a complete re-appraisal of what was previously an almost unknown cinema.
This two-day symposium is intended to complement the festival itself – an opportunity to consider the achievements and the key debates brought to light by the festival, and to discuss the new directions that future research may take. Highlights of the programme this year include screenings of A Lowland Cinderella (Sidney Morgan, 1921) starring Joan Morgan, in a romance set in Scotland but filmed on the English south coast, and two films not seen publically since their release – The Unsleeping Eye (Alexander Macdonald, 1928) an Empire adventure shot by a Scottish production company, and A Light Woman (Adrian Brunel, 1928) which was previously thought lost, but has now been discovered in a truncated home-market version.
Programme détaillé des projections et des présentations