Vous allez à Pordenone? Alors réservez la date du dimanche 7 octobre à 15h45, pour la première mondiale de la pièce de Don Crafton "Winsor et Gertie" aux Giornate del cinema muto. Le coup de force de la pièce (acclamée lors de son avant-première à Annecy) consiste à inclure la performance live, tout nouvellement reconstituée, de la version music-hall de 1914 du chef-d'oeuvre de McCay, Gertie. Voici un extrait du texte du catalogue du festival: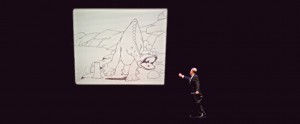 Before there was Wallace and Gromit, or Mickey and Minnie, and even before there was something called "movie cartoons," there was Winsor McCay and his dinosaur Gertie. I have written Winsor and Gertie to introduce new audiences to McCay, revealing the background of the cartoonist's artistry and highlighting the important role of vaudeville performance in the early history of animated cartoons. This 45-minute production includes a reconstruction of the 1914 original stage presentation. It combines live action and classic film footage restored by the National Film Board of Canada and the Cinémathèque québécoise to re-create McCay's act. Prepare to be transported back to the early 20th century, and to be enchanted by a legendary dinosaur! The part of Winsor McCay will be performed by Anthony Lawton, in English with Italian supertitles.
The archival documents and prints from animator McCay were delivered to the Cinémathèque québécoise in Montréal in its inaugural years in the 1960s. The nitrate film prints now reside in the Library and Archives of Canada in Ottawa, where in 2017 they were scanned at 2K resolution. The prints of Gertie preserved there are copies of the version adapted for movie-theater distribution by William Fox's Box Office Attractions in December 1914. This reconstruction, in collaboration with the Gertie Project (Crafton, David L. Nathan, and Marco de Blois), was initiated with the goal of simulating how the film would have played to original audiences throughout 1914, before the Fox release,  as part of McCay's vaudeville stage routine. In this reconstruction, live-action footage that begins and ends the Fox version was removed. The intertitles representing McCay's offscreen narration were also cut out. This is where most contemporary attempts to reconstruct Gertie end. There are problems, however, with this reverse engineering approach. Namely, when the Fox editors inserted their titles, they removed multiple frames with each splice. There are several places where long sequences of drawings are lost.
The project's original intention was to follow up on David Nathan's suggestion to substitute new scans of McCay's original artwork for the missing material. This reconstruction was done using many surviving Gertie drawings. In other instances, however, where no replacement drawings have been located, Luc Chamberland, a National Film Board of Canada animator, recreated the missing in-between frames. The major departure from the Fox version is the reconstruction of a lost encore sequence. Gertie's return for a curtain call is confirmed by eyewitness accounts, including that of animator Émile Cohl. The final reconstruction is 8 minutes of uninterrupted, smooth-flowing animation that looks much as it did when McCay obtained his prints from the lab.
A note on the title: Because McCay integrated the animated footage into his live stage performance, usually called some variant of "Winsor McCay and his Moving Pictures" on vaudeville bills, the film did not have its own title. It was only when Fox added the main title card and copyrighted the freestanding film that it became Gertie (and not, as popularly called, Gertie the Dinosaur).
— Donald Crafton
l

The music:  What could have been the music for an animated dinosaur in 1914? Probably a mix of the foxtrot and popular songs of the era. So I am using as a basis the 1912 ragtime "Gertrude Hoffmann Glide," by Max Hoffmann. As this show would have been presented in many different venues, I wrote a score that is clear, lively, and suitable for a small theater-orchestra of that period: piano, drum, bass, violin, and any additional musical forces available. So let's swing to the Gertie Glide!
– Gabriel Thibaudeau
l

Credits for Gertie reconstruction (vaudeville performance and film, 2018):
Animation reconstruction: National Film Board of Canada/Office national du film du Canada.
Production: National Film Board of Canada & Cinémathèque québécoise, with the support of the University of Notre Dame. Producers: Michael Fukushima (National Film Board of Canada), Marcel Jean (Cinémathèque québécoise). Executive producers: Donald Crafton, Marco de Blois, David L. Nathan.
Films and documents curated by: Cinémathèque québécoise. Research funding: University of Notre Dame. Concept, analytic research, and animation prototype for the Encore: David L. Nathan.
Animation technical director: Éloi Champagne; Forensic animation: Luc Chamberland; Forensic restoration: Sylvie Marie Fortier. Special Thanks: Éléphant: The Memory of Quebec Cinema/La mémoire du cinéma québécois.