"Documents de cinéma" : domitorian files online
Message from our member Roland Cosandey (Roland.Cosandey@unil.ch):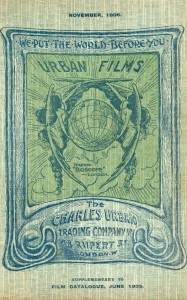 The editorial board of Documents de cinéma is happy to announce that the complete 1906 Charles Urban Trading Company Catalogue (200p.) is online, via the following link:
We Put the World Before You. Urban Films
(London : The Charles Urban Trading Company, November 1906)
This key source is now available to researchers, students, afficionados and cataloguers.
We are grateful to Stephen Herbert (Hastings, East Sussex) for having made available this rare copy.
With the online access to the 1903 Urban Catalogue on Internet Archive, this online edition is complemented by Luke McKernan's reference book, Charles Urban. Pioneering the Non-Fiction Film in Britain and America, 1897-1925 (Exeter: University of Exeter Press, 2013) and the website which the latter dedicated to Charles Urban.
Hosted by the Swiss film archive website, Documents de cinéma is edited by Roland Cosandey, Pierre-Emmanuel Jaques and Caroline Neeser. Many contributions devoted to early cinema are published there. We invite the Domitorians to discover the following sections (click to peruse):
– An update of the book "Cinéma 1900"
– Aviation and cinema, 1897-1914
– The movie house Radium in Zurich, 1909-1914